For the nerves and good sleep – Renact
There are complaints that are extremely widespread in our society. Sleep disorders, nervousness, anxiety and restlessness affect a large number of people. Our stressful everyday life, noise, environmental pollution and much more seem to promote the symptoms, or even bring them on.
Among the positive influences cannabidiol has on the body and mind is relaxation, improved well-being, support for inner peace. This makes the phytocannabinoid predestined for use in promoting sleep and reducing anxiety and restlessness. CBD unfolds these fascinating abilities best when taken in combination with other active ingredients from the hemp plant, rather than alone. And the best bioavailability is achieved by taking it by inhalation. The combination of thoughtful cannabinoid formulations and high-quality vape equipment is the focus of the Renact company. We wanted to dive a little deeper and were able to direct our questions to Renact's founder and CEO, Laurent Buord.
Interview with Laurent Buord, founder and CEO of Renact.
Hanf Magazin: To begin with, we would of course like to introduce Renact to our readers. How did the company come into being and what professional backgrounds do the founders come from?
Laurent Buord: Renact is a private company that was born from the shared motivation and vision of two people. We both come from the industrial and energy sectors, and a decade ago we set out to find more sustainable solutions and efficient alternatives because we were concerned about our resources, which were diminishing. We no longer wanted to rely on them exclusively, but to make better use of what our environment gives us. Hemp and cannabis have so much to offer: The plant is able to prepare soil, it provides oil resources, fibers, building materials, plus lots of therapeutic possibilities.
We decided to focus on the therapeutic aspect because we were looking at the health disorders, the problems and concerns that are developing in our society. Since the number of affected people is so large, for which this plant could provide some solutions, we wanted to start from this point.
Our principles include working according to the latest scientific findings, transparency in manufacturing, in-depth knowledge and the motivation to always offer the best possible natural product. Especially in terms of fighting tobacco addiction and health problems, we take a non-conventional approach. We found that cannabinoids are a highly potent molecule, but unfortunately the market does not yet offer the high-quality and safe products that should be the norm.
We have our cultivation and extraction facilities in Greece, where we produce the cleanest, healthiest and most efficient CBD for vaporization. The vaping market has great potential in the future because it is the most bioavailable and at the same time a very tolerable way to use cannabidiol. Moreover, vaping blends perfectly with existing smoking habits and allows for a smooth transition from tobacco smoking. The cannabis strains used for the production, the formulation and the extraction process are specifically designed to facilitate nicotine withdrawal.
The oil is uncut and free of harmful molecules (glycol, etc.) and a special device is offered for the most healthy, convenient and effective use. Patents and scientific research guarantee the quality of the ingredients and the process, while the consumer is offered complete transparency about the production. In addition, the special formula is naturally clinically tested before launch.
The new product line will be launched in the fall of 2022 and sold online in the German-speaking countries of Europe, where three-quarters of the population is familiar with CBD and its benefits. Europe is the bigger expansion market because 200 million people here still smoke tobacco and suffer the health consequences.
Hanf Magazin: 

Renact offers a vaping system, which we'll get into in a moment. What advantages over smoking would you describe as the reason why vapes are so successful today?
Laurent Buord: If we refer to smoking tobacco, it smells bad, it gets burned, and there are a lot of harmful chemicals that are released when it's burned. Nowadays, a new way of inhalation is available to us, which involves adding nicotine to an e-liquid that consists of chemically diluted active ingredients and flavors.
The pure extracts that Renact exclusively offers are an approach that combines two aspects: on the one hand, you want to stop using tobacco and e-liquids, but you still want to inhale, simply for relaxation, without ingesting harmful substances. At the same time, people inhale cannabinoids, which positively influence our endocannabinoid system and can thus alleviate numerous symptoms and trigger health-promoting effects. Since people often find it difficult to give up some of their habits, but are concerned about what they consume and how, while looking for a nature-based, harmless solution that could have a positive impact on their health, vaporizing pure cannabinoid extracts is a successful concept.
That's why a number of non-smokers are switching to cannabinoid extract vaporizing. In doing so, no smoke is released, the smell is subtle, it is discreet and more convenient than oil, and yet it is the best way to absorb cannabinoids at their full potency. If the extract is accurately formulated and of high quality, vaping is the best way to consume cannabinoids.
Hanf Magazin: Now vaping also plays a big role in the medical context. Is the use of Renact Vapes a wellness application or is it also about treating health conditions?
Laurent Buord: We believe that vaping or inhaling plays a big role in the medical context. When inhaling, the biodisponibility is greater, i.e. the number of cannabinoids that can be found in our body after consumption (50-60% compared to around 8-10% when taken orally).
For this reason, Renact has chosen exclusively this method of delivery and consumption. As mentioned above, Renact did not set out to profit from the attention that the mass CBD market enjoys. We make functional products based on research, on the work of Ronald Glas, with our own chemotaxynomy, with the goal of going deeper and deeper into therapeutic solutions. These functional products serve only one purpose: human well-being. As such, we must be committed when it comes to formulation, culture, extraction, testing, and demonstrate a rigorous approach that is less of a wellness approach and more of a therapeutic one. 
We want to help people by offering them the best product that will enable them to relieve some ailments that have often been treated with chemicals. All of our formulas, just the two for now, SLEEP and RELIEF, have been carefully formulated and contain many different cannabinoids in the right proportions and dosages, and all have been clinically tested in advance. Our product range is indeed limited, but very specialized and dedicated. The third product is currently in the clinical testing phase.
So we are approaching things a little differently, not as a typical player in the wellness market where there are thousands of different average and similar products, but as a company on the border between wellness and therapy. With the new products that are coming, we are moving more and more towards therapy.
Hanf Magazin: On the homepage we find a sentence about the Renact product, which reads: "Integrated Cannabinoids Vaping System". What can I imagine by that?
Laurent Buord: We have since removed that phrase, but essentially it means that we have to have a suitable device that fits the specificity of the extracts that are in it. Each formula that is specific has its own profile that requires a different temperature, for example. We don't want to overheat the pure extracts that are in. But we want to maximize the release of the cannabinoids. So the vaping system or device has to be carefully chosen.
Hanf Magazin: Describe the Renact Vape to me in a little more detail. What makes it stand out, compared to other vapes?
Laurent Buord: First of all, it depends on what effect we want to achieve. Once we have decided, the time of research begins, mainly by Ronald Glas, who has been working dedicatedly for 30 years to find the right proportions, from a database of 38,000 samples and tests, to identify the chemo types, the effects, etc… and then to identify some right strains. Once the formulation is found and decided after many trials, we go to the testing phase (preclinical and clinical tests). In parallel, we need to test some of the selected plants to make sure they are suitable for our plant. If not, we need to breed a special strain that adapts to our environmental conditions and is stable in the long term in terms of cannabinoids and terpenes.
We can't have a great product without also having a great extraction tool for it; we have chosen a Swiss GMP laboratory that uses a unique low temperature Co2 process to preserve our flower ingredients. Because we are specialized and dedicated, we do not compromise on quality. If our motto is to help people, then the rest should follow and match with it. This is our specialty. It's a costly, lengthy, persistent and not easy approach, but it makes a difference in the end, and that explains why Renact stands out from the crowd.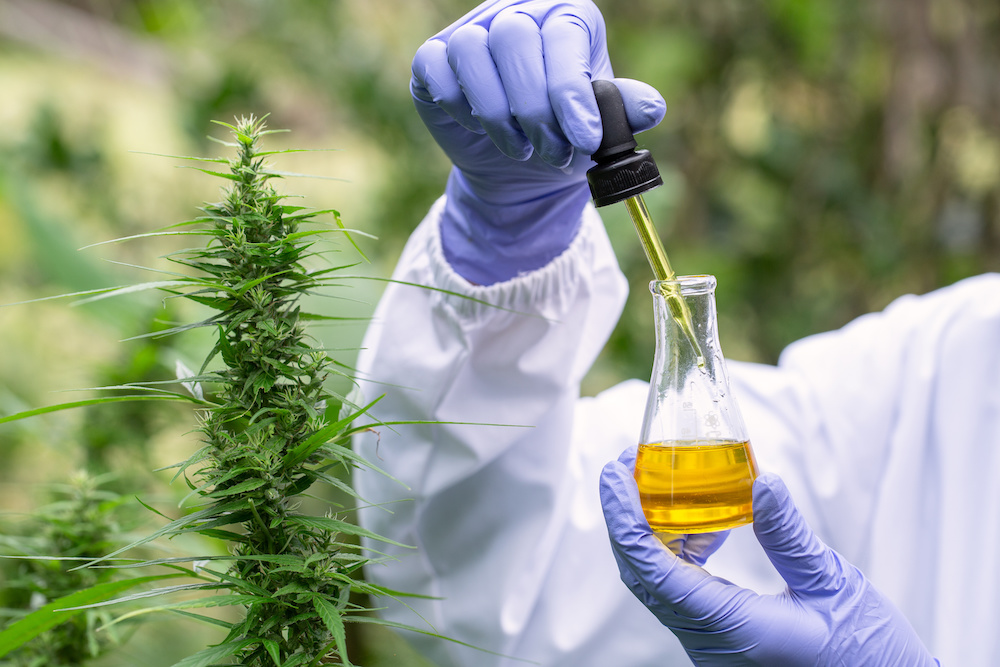 Hanf Magazin: As a cannabinoid product to vape, there is Renact Sleep and Renact Relief. How do the products differ in terms of composition, but also in their effects?
Laurent Buord: Sleep problems reflect many aspects. Basically, it's difficulty falling asleep for numerous reasons and the lack of a long, restful night without interruption. Sleep By Renact is first of all a sleep promoting formula. Instead of pills that put us in a calming mode, our formula aims to eliminate anxiety and everyday traumas and put us in a psychological relaxation mode. We work on the root causes that prevent our body and brain from fully entering sleep mode.
Relief by Renact follows the same modus operandi. We don't want to bring a solution to solve a problem on the spot. Relief aims to remove anxiety, bring appetite for curiosity, more social interactions, new ways to explore than the usual, as one professor said "removes inhibiting brakes that lead to a greater interest in a new life experience". We live in a very traumatic and fearful world, very demanding, demanding, physically as well as emotionally. Our relief allows us to be in control, confident and positive. We can just deal with everyday life better.
Hanf Magazin: You work with Precise Endocannabinoids Science Formulas. Which endocannabinoids, or endocannabinoid combinations seem particularly effective to you, or particularly interesting for other reasons?
Laurent Buord: We start from what we know, and from what science knows. Our endocannabinoid system works with molecules similar to those provided by the plant, hemp or cannabis. Accurate combinations mean we need to use the right cannabinoids for specific disorders, but also in the right proportions. It doesn't make sense to use 5% or 10% CBD here and 60% there. What's the point either? So we are trying to suggest the right formula that our endocannabinoid system needs.
Hanf Magazin: Would THC also be a cannabinoid that Renact would like to work with more?
Laurent Buord: Indeed, THC is one of the most important cannabinoids and definitely plays its role in medical applications. It is part of our plan, in the coming years, to continue to deepen our work in therapeutic approaches, cancer treatment, Alzheimer's, Parkinson's, neurogenesis, the topics that are important to us. So THC could also play a role for us in the future.
Hanf Magazin: How will the next months at Renact go according to your ideas? Will there be a lot of work in sales or is product development more in the foreground?
Laurent Buord: We are quite modest about sales – the market will show. It's not just simply a certain number we're aiming for, but we want to make sure people like it and find it useful in their daily lives. Interestingly, we are seeing a lot of demand for such specialized quality products; after all, nearly 100 million people in Europe suffer from anxiety and about 75 million from sleep problems. When I said that we are a little different, I was also referring to our goals.
We surprisingly don't have an aggressive sales plan, price-wise we do, because we want to make it as affordable as possible for everyone, but distribution-wise we don't want to be available on every corner; we're focusing on B2C and specialty retailers as of now. So in the next few months, we're going to slow it down a little bit because the last few years have been very intense. I'll be looking at people's reactions and feedback as we pursue our plan to find, test and organically cultivate new specific formulas.